Model innowacji został przetestowany w ramach projektu "Małopolski Inkubator Innowacji Społecznych" realizowanego przez Regionalny Ośrodek Polityki Społecznej w Krakowie ze środków Europejskiego Funduszu Społecznego w ramach IV Osi Priorytetowej Programu Operacyjnego Wiedza Edukacja Rozwój (Działanie 4.1: Innowacje społeczne), na zlecenie Ministerstwa Inwestycji i Rozwoju.
O projekcie w gazecie wyborczej
SKĄD POMYSŁ???
WRAZ ZE ZMIANAMI DEMOGRAFICZNYMI POJAWIA SIĘ PROBLEM PRZYSTOSOWANIA PRZESTRZENI
MIEJSKIEJ DO RZECZYWISTYCH, ZMIENIAJĄCYCH SIĘ W CZASIE POTRZEB UŻYTKOWNIKÓW.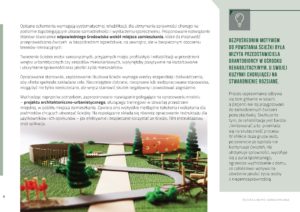 Z dostępnych prognoz wynika, że w wielu krajach, w tym Polsce, najbliższe lata będą charakteryzowały się demograficznie największym przyrostem ludności w segmencie osób
65+ i starszych. Dodatkowe wyzwanie stanowi fakt, że 70% osób niepełnosprawnych to te,
które ukończyły 50 rok życia. Największym zagrożeniem w grupie osób w wieku produkcyjnym
oraz poprodukcyjnym – podeszłym i starczym – są skutki chorób układu krążenia. Statystycznie,
co roku 70 tys. Polaków doznaje udaru mózgu, lub wylewu krwi do mózgu, po których w większości,
konsekwencją jest poważny uszczerbek na zdrowiu i trwała niepełnosprawność. Istotny problem to
także stwardnienie rozsiane(SM). Według statystyk, w Polsce choruje na nie ok. 60 tys. osób, głównie
w wieku produkcyjnym, które zagrożone są wykluczeniem z życia społecznego szczególnie ze względu na
postępującą trudność w poruszaniu się.
czytaj więcej o Model-ścieżka-motosensoryczna: